Open every day non-stop from 10 a.m. to 6 p.m. even on public holidays! 😉
Tree climbing park at the « Base de loisirs du Lac des Montagnès » [Leisure Center]
10 minutes from Mazamet in the Tarn
Innovative games in the natural environment
and unique in Occitanie 100% secure on a continuous lifeline
Courses accessible to all
Children, adults, athletes, seniors, our courses are suitable for everyone, without age limits and from 2 years old.
You will discover with family or friends an outdoor leisure activity: from aerial walks to dizzying extreme sensations! ESSENTIAL & UNMISSABLE ACTIVITY OF MAZAMET!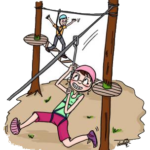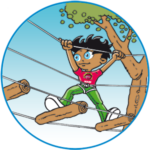 + 160 games on 16 secure courses
We offer a multitude of games, some of which are unique in the Tarn: Toboggan, aerial skateboarding, vertiginous scooters, cycling in the air, etc… Our courses are 100% secure IN A CONTINUOUS LIFE LINE: impossible to unhook! And suitable for the whole family so that everyone can evolve in total autonomy, for an aerial adventure of around 4 hours depending on the formula and the number of people. Come live an increasingly dizzying adventure!
Privileges card
Take advantage of offers and promotions throughout the season with our new Privileges Card! More information at the park reception.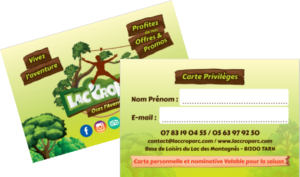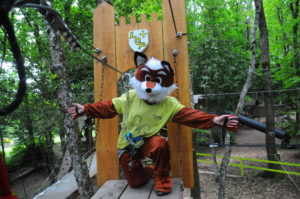 16 Courses
Baby: 2 courses only for children from 0,85m.
Pitchoun: + 5 courses to share between children & adults from 1,05m.
Découverte: + 3 courses to discover the first sensations of height.
Aventure: + 3 courses where you'll discover more than 15 more aerial games uper !
Sensation: +3 courses reserved for the most courageous and athletic !

+ 1000 M of ziplines
You asked for it, we made it!
You liked them, we liked them!
The Tyro Fun & Tyro Frissons courses will still give you great sensations!
Privileges card
Take advantage of offers and promotions throughout the season with our new Privileges Card!
Nominative and valid for the season, ask for your card when you come to reception!
Point of sale & terrace
Free access to all public, where you will find a relaxation area with garden furniture, terrace, and where you can rest between courses and regain strength with Lac'Cro Break meal formulas, sweets, drinks, ice cream …
Your events
Birthdays, cousinades, bachelor and bachelorette parties, end-of-year outings…
Preferential rate applied: contact us for more information.
The mascot
Gigi Fox
Gigi Fox has settled in the Lac'Cro Parc forest to the delight of young and old and will come to liven up your adventure in the trees! But it will be necessary to call it very loudly for it to come out of its den…
Benefits
Discounts: Privileges card, student, group, Seniors, CE…
Want to please?
Claim your gift card!
RECOMMENDED ATTIRE
T-shirt, pants or shorts as well as sneakers.
For valuables, secure lockers at €1 are available [key to be requested when you go to reception].
WEATHER INFO
The courses are passable in light or moderate rain; just dress accordingly. For more information: Meteo Mazamet [81200].
In stormy weather or heavy rain, the courses are inaccessible and closed to the public.
PARTNER OF THE OCC'YGENE CARD
Take advantage of discounts thanks to our region
You can now pay for your tickets / drinks with your card
[depending on the category and your remaining balance] & benefit from discounts!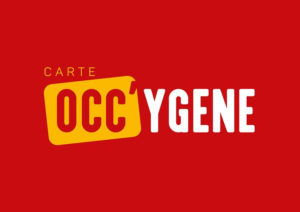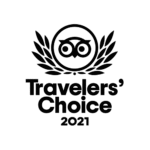 TRAVELERS CHOICE™
Thank you for your positive feedback!
Do not forget to leave your feedback to participate in the referencing of a leisure activity in Mazamet